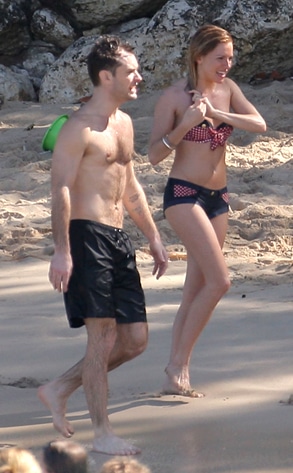 INFphoto.com
It's a Christmas miracle!
No, not the fact that Sienna Miller and Jude Law are reconciled on a romantic getaway. The fact that Sienna is on a beach and has her bathing suit top on!
The clothing-optional actress was snapped on a beach in Barbados with Jude and three of his kids a few days after Christmas.
Supposedly, Sienna already had the tropical trip planned and asked Jude to join her after they got cozy in NYC.
And who could blame him? It's freezing in London right now!
The happy group was spotted building sand castles, swimming and going tubing together on their island getaway.
Remember when she spent a recent holiday with a different dad?
Hey, at least she kept her top on this time!