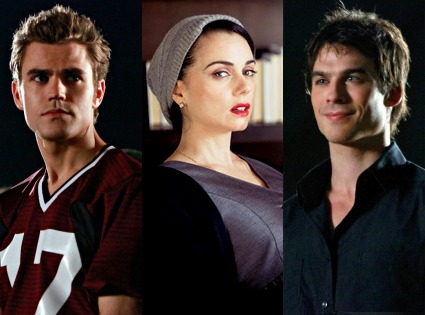 Quantrell Colbert/The CW; Showtime
Can Matt Davis do a good Harrison Ford? How about a good Dexter Morgan?
We're about to find out on Vampire Diaries, because sources tell me there's much more to the casting news that just broke about Mia Kirshner (24, The L Word) joining the cast for a recurring role.
While it's true she's playing Isobel, the wife of Matt Davis' ridiculously named schoolteacher character Alaric, she might already not be of this world...
According to my sources, Kirshner will appear on the series beginning Jan. 21, but her scenes won't be in present-day. They will be in flashbacks because her character Isobel is already dead.
And you'll never guess who killed her. No really, go ahead, try! Though my sources have asked me not to spoil the big twist outright, suffice it to say that Isobel died at the hands of a main (hot) character we already know. (Did I mention hot?)
You can bet that Alaric is in town for some sort of sweet revenge. And as long as Tommy Lee Jones is not on his case, he should be A-OK! (Or something.)
The good news in all this is that Aunt Jenna still stands a chance at love with the sexy schoolteacher (Davis). Assuming he's not, you know, evil himself.
Oh, and interesting note: Mia and Paul Wesley (he was still Paul Wasilewski then) played siblings on CBS's Wolf Lake. Anybody remember that show? Anybody? Bueller?
What do you think of Mia Kirshner coming onboard? And who is her killer twist? Comment below...
________
Join E! Online's Vampire Party!