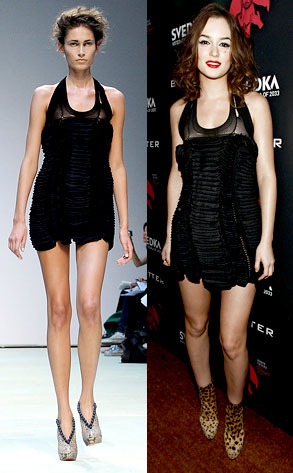 Ian Gavan/Getty Images; Brian Ach/Getty Images for Butter
Leighton Meester's desperation to achieve edgy sexiness is starting to get on our nerves.
At first it was OMG! She looks hot. Then it became WTF was she thinking? Now it's OMFG, enough already.
Mark Fast's black mini is edgy enough with its sheer paneling and short hemline. There is no reason for the Gossip Girl to paint on clown makeup—not to mention a fake beauty mark—then cut off her legs with leopard Christian Louboutin booties.
Or maybe it's just us. Do you like how Leighton put her own spin on the knit dress?
Vote now on mystyle.com!