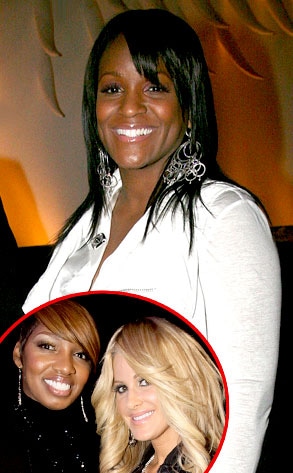 Johnny Nunez/Getty Images
What would The Real Housewives of Atlanta be like without Nene or Kim?
Well, it's possible we may find out. Though a rep for the series tells us that "no decisions have been made yet for season three," there are reports that producers may be replacing one or both of them for the upcoming season.
So who would be cast?
Well, we can tell you that one rumor is most definitely not true. Usher's ex-wife, Tameka Foster, will not be joining the Atlanta cast.
Tameka herself tells us exclusively:
"While I am flattered at the rumor circulating about being considered to join the cast of The Real Housewives of Atlanta, I am absolutely not joining the cast.  I was initially approached by the producers for last season and declined. At this point, my priorities are focusing on being a mom and my philanthropy, Lost Ones Foundation."
Tameka, a celebrity stylist, started Lost Ones Foundation after her frightening preplastic-surgery complications in Brazil (according to her rep, the complications happened before any surgery took place) to help at-risk teen girls develop both better self-esteem and a more positive body image. The Atlanta organization's first bi-annual retreat is this weekend at Château Élan in Braselton, Ga., and more information can be found at lostonesfoundation.org.
Tameka's rep adds: "She hasn't talked to anyone from [Housewives] since 2008, and she would never consider doing it. Her life is very private. She knows a lot of the women and has great relationships with them, but she's focusing on her foundation right now."
As for her private life with ex-husband Usher, Tameka's rep says, "She's coparenting with Usher, and they are enjoying parenting together right now."
Would you miss Nene and Kim on Real Housewives of Atlanta? Comment below...
________
Need to be brought up to date on everything that's gone down in the Real Housewives world? You're so lucky because you can get the info right here.