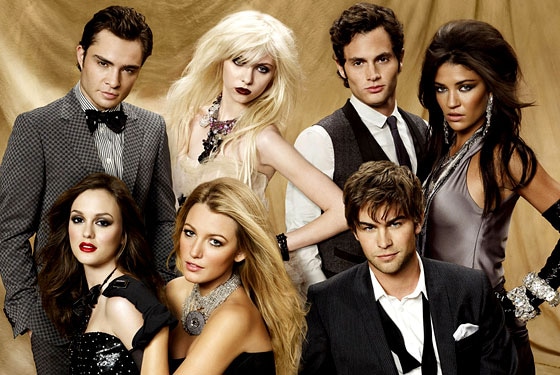 The CW/Ruven Afanador
Oh, Jenny, you're having a bad year, aren't you? Gossip Girl's would-be Queen Bee can't even reign supreme in her own school—and the "petty megalomaniac" look flatters no one—and now she's going to be a homewrecker, too?
Word on the street is that Taylor Momsen's Little J gets entangled in another love triangle this season, but is she breaking up Chuck and Blair? We've got the truth.
Plus, if you're looking for hints about the Lost character resurrection and who's dead after the Desperate Housewives plane crash, you're in the right place...
Eloise in Sacramento, Calif.: Is Eastwick being picked up by Lifetime? It's all over the abc.com boards that this is going to happen, and I know that you are the only person who can get us the truth! Thank you so much!
Sadly, we're told this is just a rumor and that Lifetime is not in active talks to pick up Eastwick right now.
Greta in Salt Lake City: I love Legend of the Seeker! What else can we expect when season two returns in January?
Don't miss our Legend of the Seeker feature from last week if you haven't seen it yet. Show runner Ken Biller also tells us about the episodes to come: "We're exploring themes of life and death in this world—what is the afterlife?—and we're exploring religious themes, and faith in oneself versus faith in a divine entity, and whether one is the master of one's own fate or if one's fate can be defined by an existing prophecy. But I don't want to make it sound like a boring intellectual exercise. Hopefully, mixed into all of that is really exciting adventures and sweeping vistas and sexy characters and fun villains and cool creatures and all of that stuff."
Charles B.: I love Katey Sagal from Sons of Anarchy, and I have both her albums and just wondered if she would be releasing another one anytime soon. She has a great singing voice. Thanks.
Yes! When we talked last week to SOA queen Katey Sagal, she told us, "I want to do a five-song EP. I'll coordinate when that comes out with season three, so I'm working on it right now, trying to find material, trying to write."
Becki in Montana: What's your take on celebs who actually interact with their fans via Twitter?
Besides the fact that they're awesome? We actually just chatted with Law & Order: SVU show runner Neal Baer about this very topic and really enjoyed his take on the tweety phenomena: "I go on a couple of times a week, say stuff and do stuff and show bubble tweets; it is the new way to keep in touch." Neal even brings in the stars of his show to talk to tweeters. "I nearly made the whole system collapse when Mariska [Hargitay] was on with me in November because it was spur-of-the-moment and crazy [with] 100,000 hits coming. We'll be better prepared next time."
Perry in Seattle: I can't believe The Office doesn't return until February! Can you tell us anything fun coming up?
When we chatted with The Office's executive producer Ricky Gervais earlier this week, he gave us a scenario that he hopes to someday see in the show: He does have one tongue-in-cheek Office dream that we would absolutely love, telling us: "I'd like to see them watching an episode of Extras in the office, and saying that this is a good program, and I'd like Michael to go, 'Yeah, they should do an American remake, and I think I'd be great in that role.' " (Can't you see this happening in the Office teaser right before the opening credits?) Ricky's official website is the source of many more laughs, and if you're a fan of Law & Order, you must check out The Ricky Gervais Guide to...Law & Order on iTunes.
Maurice in Pittsburgh: What the what? I just read Josh Schwartz's quote that Jenny and Chuck have something coming up on Gossip Girl. Please tell me Little J is not coming between Blair and Chuck. I'll die!
Your life is spared. An inside source tells me that Jenny and Chuck don't really have any big storylines together this season, so I'm assuming Josh meant Jenny will have a big storyline and Chuck will have a big storyline, but they are not the same storyline. Chuck's story involves the possible surprise return of his believed-to-be-dead mother (and Jack Bass), and Jenny's involves another couple she comes between...guesses?
Wanda Two Saints: Kristin, are you really not going to tell us who Jenny will be interfering with? That's low, even for you!
Only because I like old friends with bad glasses, I will reveal that Jenny is going to "get in between Nate and Serena," according to my rock-solid Gossip Girl source. We likey? We hatey? I'm thinking more of the latter...
Drew in St. Paul, Minn.: Has Serena's father been cast yet on Gossip Girl?
Not yet. But he's coming before the season ends.
Thomas: Kristin, on Lost, you mentioned that a pretty someone we thought was dead is not? Is that person Ian Somerhalder?
Nope. Blonder, more female and much more recent. And again, this person is still alive in the time in which we most recently saw her.
Teresa in Center Point, Iowa: What else can you tell us about Sheila Kelly's character on Lost?
Sheila's character, who is not named Kendall, BTW, interacts with more than one character (so her part is not just like a flashback role or something). As Kelly tells us, "[This role is] like a petal opening, and I'm getting this amazing pic of who she is and how she intertwines into the various storylines."
Mark in San Luis Obispo, Calif.: I can't get enough Dexter! Still sick to my stomach thinking about that baby in the blood. Can you help?
Only to tell you that you are not alone. The castmembers were freaking out over the finale last night—even the man behind the very bad deed! "I still get chills up and down my spine even though I know what is going to happen," John Lithgow (Trinity) told us. "It is a very shocking finale. And it's nice because I don't have to be coy any more. All the secrets are out."
Gabby in Ocean Park, Calif.: I could have sworn something was going to happen with Masuka and Deb on Dexter this season. That episode where she took her shirt off and invited him to Thanksgiving. Wasn't there chemistry there?
C.S. Lee (Masuka) gives us this exclusive scoop: "I always thought that Debra and Masuka would get married, and—did I say too much? Well, season five, they're on their honeymoon in Barbados. Dexter's hanging out—he's trying to have a good time while he can. She's pregnant, and she thinks maybe it's Lundy's, but it's actually mine. Yeah, we're going to have three Dexter babies. It might be Dexter/Masuka now!" For the record, he is kidding. "Honestly, I don't know what happens next season. The writers haven't even figured out what's going to happen either, but if I was a writer, I would give Masuka maybe a date, maybe an affair, maybe a nice tropical island vacation somewhere. He does need a real romance...In a way, Masuka and Deb are kinda similar, so they would end up making a good couple. I'll tell [boss] Clyde Phillips and make sure the note makes it on his desk."
Mandy in New Jersey: Come on! Who dies in the Desperate Housewives plane crash?
We can't tell you that yet, but we can tell you that one of the causalities is a husband who finds himself paralyzed and becomes quite the little household tyrant from his wheelchair.
Joyce in Indianapolis: Is there any way you have any more scoop at all about new Glee episodes?
We just caught up with Naya Rivera, who plays Santana, and she told us this: "Santana's been wreaking havoc with people's boyfriends and people's babies and teachers—she's the high school terror, and she's going to continue to be the villain." As long as she steers clear of Puck, everything will be A-OK.
Monica in Portland, Ore.: How great is Vampire Diaries? I thought I would hate it, but I'm obsessed. Do you know what big things they're leading up to for the end of the season?
I can tell you that the writers actually aren't going to wait until the end of the season to open the tomb with all the vampires and Katherine in it, and you know that's gonna be good!
David in Fontana, Calif.: All anyone talks about anymore is the How I Met Your Mother 100th episode. What's coming up after that?
Well, since you asked, Neil Patrick Harris is actually heading behind the scenes to direct the 101st episode, which they just started filming this Monday. "I'm directing the episode, so it's going to be a long week for me," NPH told us the night before his big gig. "I'm in it and directing, so I get to yell at Jason Segel a lot: "No! Better! Faster! No! Funnier, be funnier, Jason!" Feel better, now?
Lola in Austin, Texas: I love Betty's makeover on Ugly Betty, but I'm still waiting for her to get her braces off. When will that happen?
According to Jesse Tyler Ferguson, who plays Betty's orthodontist when he's not busy being awesome as Mitchell on Modern Family, it's probably going to happen sooner rather than later! He just tweeted, "In NYC. Here to check up on a certain patient I haven't seen in a few years."
Holly: How about some news on 90210? I'll take anything on Dixon...love him.
And apparently he loves to gamble. Or he will, soon. I'm also hearing we will meet Teddy's movie star father, Spence.
Anita in Houston: Has Thomas Gibson left Criminal Minds?
Nope! Despite Hotch's recent family tragedy, all parties involved assure us that Thomas Gibson is remaining with the show. (Too bad for you fans who expressed a hope that Haley's death opened the door to a major return by Mandy Patinkin's Gideon.) In other news, producers are now casting four regulars for a Criminal Minds spinoff; network sources aren't saying anything for sure, but chances are good that we'll meet the new team first in an episode of the mothership, and then they'll zoom off to their own world next season.
Patty in Nashville, Tenn.: Anything new to tell us about Chuck?
Just that two of our favorite Buy Moreians are shacking up. According to show runner Chris Fedak, "Ellie and Awesome moved out. They found an apartment across the way, and Chuck and Morgan are getting their bachelor pad." Whoo whoo!
Jason in Palm Springs, Calif.: Supernatural! So happy it's going into syndication.
Happy zombies! Sam and Dean find a town where everyone's loved ones come back to life as zombies but they're nice, friendly, non-brain-eating zombies...oh, and one of them is Bobby's dead wife.
Jamie in Rochester, N.Y.: This is a Supernatural question. I'm a Sam girl, and I was wondering if you had any scoop about him?
Even though Sam is supposed to be on the wagon with his powers, we will see him use them again before the end of Supernatural season five. (Dean's not gonna be happy about that!) In other Supernatural news, we'll be meeting another horseman of the apocalypse (Famine, this time, rather than War), and the Prophet Chuck will definitely be back, although probably not in the company of his Supernatural-fangirl girlfriend.
Megan: I hated the reveal of the killer on Melrose Place! It was so random and made no sense. Are we really to believe it was supposed to be Michael's wife all along? And why would we care when we've hardly seen her? Did Ashlee's exit change the plan or something?
Nope. According to my Melrose sources, "It was always the plan from day one that it would be Michael's wife." Anyone else think it was a letdown?
Belinda in Colorado: I love Modern Family so much! Any scoop?
Our hero Manny is going to have something of an off-week when he accidentally on purpose (thanks to Jay) sees his first horror film and doesn't cope so well with the notion of homicidal maniacs.
Sara in Denver: Got any good scoop on Make It or Break It? Specifically the hot coach Sasha...
Peri Gilpin kinda spilled to us that Payson Keeler's injury might not be holding her back for too long. (Yay!) In other news, we asked if the girls would be traveling overseas to any international competitions, and Candace Cameron Bure told us, "There's definitely travel in the show because the girls as a team and individually are getting press." Awww, the girls are going national! As for hot Sasha, we'll learn that his close ties to the gymnastics establishment have advantages for the girls...and some disadvantages, because not everybody is as in love with him as we are.
Allison in Cupertino, Calif.: 10 Things! 10 Things! Tell me more about 10 Things!
The new man in Kat's life is a good-looking kid known as Charles "Blank" Blankenship, and he's kind of like Kat's political, hypercapable doppelgänger. Think Bradley Whitford's Josh Lyman to Mary-Louise Parker's Amy Gardner from The West Wing.
Megan in New Haven, Conn.: I watched the last episode of White Collar,  and it blew my mind! Is this as much of a game changer as it seems to be?
That last scene was great, but it's probably not the game changer the show wants you to think it is. If Peter really is evil, which we highly doubt in any case (the deal with Kate has to be for Neal's own good, right?), Neal's not going to know about it for a looong time, as Peter and Neal remain happy and devoted partners for many episodes to come.
Josie in Worcester, Mass.: The Good Wife has slowly turned into one of my favorite shows. What happens after the holidays?
Peter Florrick (Chris Noth) might really be getting out of the clink. In an upcoming episode, the sheriff comes by Alicia's (Julianna Margulies) house to inspect it for contraband and placement of an ankle-bracelet monitor. Peter being at home is going to cause all kinds of chaos!
Missy in Brewer, Maine: Any news on the next six episodes of Trauma?
Rumor has it that Rabbit gets in real trouble. We hear he's suspended and has to go to therapy to deal with his psychological issues before he's recertified.
Cara in Galion, Ohio: I really liked Men of a Certain Age. What's in store for the guys?
Sadly, Joe's (Ray Romano) gambling is going to get worse before it gets better. Look for that to be an arc throughout the whole first season. And Terry (Scott Bakula) will continue to teeter on the edge of being a working actor, with an assist from Annie (the ever-adorable Carla Gallo). How are you guys liking this show so far?
Interns Wanted: Hey TV fans, we're looking for a new intern to start immediately. If you live in the Los Angeles area, attend a college that offers school credit for internship work, love television, have strong writing skills and are able to work on Monday and Wednesdays through the new year (workdays in 2010 to be determined), please check out the official internship listing on CEGJobs.com and then email tvdiva@eonline.com with a résumé and cover letter that highlights any relevant experience and skills. Thank you!
—Additional reporting by Jennifer Godwin, Megan Masters and Breanne L. Heldman