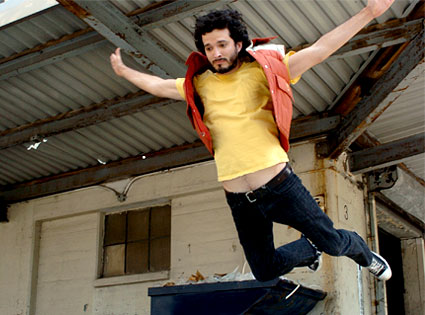 Nicole Rivelli/HBO
Flight of the Conchords: Noooooooooo! OK, we know there were rumors this might happen, but still, it doesn't lessen the sting: Bret McKenzie and Jemaine Clement of Flight of the Conchords have announced on their website that their quirky and hilarious HBO show won't be back for a third season. Pretty stunning, given its critical praise and recent Emmy accolades (Jemaine was nominated for Best Comedy Actor earlier this year).
"We've noticed the less we say about the future of the show, the more people want to talk about it," they wrote. "So in an effort to reverse this trend we are today announcing that we won't be returning for a third season. We're very proud of the two seasons we made, and we like the way the show ended." But we don't like that it's ending at all!
Meanwhile, wanna sneak a peek at Teri Hatcher's sexy striptease?
Desperate Housewives: Teri Hatcher sure knows how to rock a tool belt! Check out this just-released photo of her upcoming striptease, which looks pretty campy and fun. As we previously reported, she learned the dance from S-Factor created Sheila Kelley, who is also joining Lost this season and dishes a bit on her Lost role here.
Modern Family: Eric Stonestreet (aka "Fizbo the Clown") wants Kathy Bates to play Cameron's mother. Yes, please!
Lie to Me: Felicia Day (Queen of the Internet, according to Neil Patrick Harris) will guest star in Monday's fall finale, in which she will act and sing.
House: Hugh Laurie is set to direct an "intense" episode of House this spring.
Anyone else going to miss Flight of the Conchords? Have ideas on how to change Bret and Jemaine's minds? Comment below...
________
Get Dexter finale scoop straight from the boss man himself!