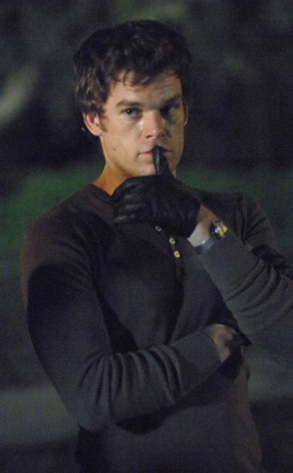 Randy Tepper/Showtime
Here's just about the most surprising thing we've heard all week: Dexter boss Clyde Phillips is not pissed with Showtime's promo department for releasing at least one truly spoilery sneak-peek video before this Sunday's highly anticipated and ultrasecret season finale.
"We have nothing to do with what clips are selected," Clyde tells me. "But they do a great job and I can't quibble with them."
Say whaaaa?
I mean, hello, Clyde, they've basically spoiled what has to be one of the biggest reveals of the finale: That Deb is figuring out who Dexter is, and even knows the Ice Truck Killer was his brother! In fact, Jennifer Carpenter (Deb) just played coy with us on that very matter.
Unless…Oh. Dear. God. What if that's only the teensiest tip of the iceberg of what goes down? What if the finale is that huge?
That certainly would explain why the Dexter bosses have employed some extreme tactics to prevent spoilers from leaking.
Here's what Clyde tells us exclusively…