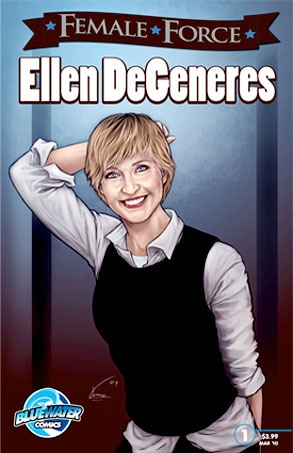 Blue Water Comics
Ellen DeGeneres is getting a 'toon up.
Bluewater Productions' Female Force, the biographical series that's already tackled Sarah Palin, J.K. Rowling, Twilight author Stephenie Meyer and more, is set to release its latest edition in March 2010.
"People forget what a groundbreaking talent [Ellen] is and that fame did not come overnight," Bluewater president Darren Davis said in a statement. "But through all her highs and lows, she managed to stay true to herself and prove that she is a female force."
The issue will cover Ellen's career, personal life and, yes, her dance moves.
________
Wonder which other celebs have been redrawn? Don't miss our Stars Get Animated gallery.