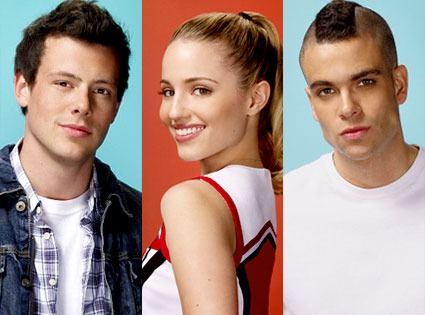 Matthias Clamer/ FOX
"You can't always get what you want"? Whatever! Not when it comes to those fan-freakin'-tastic New Directions over in the land of Glee!
You know the ones we're talking about, the little old misfit choral group that could, who—SPOILER ALERT—stole the gold at Sectionals while still managing to completely rock our world with showstopping ballads, baby daddy blow-ups, broken engagements and the banishment of one badass Cheerios coach named Sue Sylvester (Jane Lynch).
Glee's fall finale has come and gone, and man, did it deliver! Dare we say it may have been the best hour yet?
So what will happen next? Well, the cast just started shooting new episodes this week and here's the exclusive dish...
WHAT WENT DOWN
Rachel Berry (Lea Michele) unraveled the tangled web that is Finn/Quinn/Puck, which ultimately led to a big, brawny brawl between the boys—setting the tone for the rest of the episode. Puck (Mark Salling) offered up parental support for his baby-to-be, but Quinn (Dianna Agron) decided to go it alone in the mommy department; Finn was finished with his fellow gleeks, but it was Mr. Schu to the rescue (one of many emotional moments belonging to the amazing Matthew Morrison); Sue screwed up and was suspended from the squad; Mercedes (Amber Riley) did Dreamgirls; Rachel shined brighter than Barbra Streisand; Will gave Terry the boot and laid a wet one on Emma (Jayma Mays) (squee!); and all in all, the kids definitely got exactly what they wanted—the Sectionals trophy and a ticket to Regionals. (Whew!)
WHAT LIES AHEAD
Will Emma and Will stay together? If Jessalyn Gilsig (Terri) has any say in it, no way! "Terri's not giving up this fight easily!" she tells us. "She's known Will a very long time and her emotions run deep." Jessalyn says she'll be there when the show returns in April to "keep the hope alive" for Terry and Will.
Fall is O-V-E-R, which means a different sport is in full effect this spring. "I don't know if Glee starts back after a school break, but it's basketball now," Corey Monteith (Finn) says of the new batch of episodes. "Finn Hudson is the captain of the basketball team."
Digging the song selection throughout the road to Sectionals? Kevin McHale (Artie) tells us there's more where that came from: "There are more songs per episode than the first 13, so it's more work, but it's fun. It's all different genres, the most eclectic so far." As for hints on which songs they'll be performing, Kevin says only: "There are classic songs that I never thought we'd be able to do by big, famous bands—oldies, classics, very well-known bands that we're going to 'Gleeify.'"(We asked if he was referring to the Beatles, and it was a no-go. Any guesses?)
Now it's your turn: Was the road to Sectionals worth it? We certainly think so, but holler below and let us know what you think.
________
Gone are the days of Glee (for now), but at least you can still admire Rachel and Puck in our TV Couples We Love photo gallery.