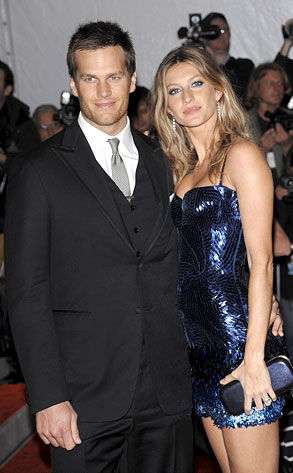 AP Photo/Evan Agostini
Like father, like sons.
Tom Brady has drafted a pint-size player for future backyard ball games, as the New England Patriot star and his supermodel wife, Gisele Bündchen, have welcomed a son.
"Everyone's great," the new dad said this morning at his well-timed weekly press conference at Gillette Stadium. "Wonderful experience in my life."
Brady stayed mum on any further details of the baby's birth (like when and where he arrived), his vital statistics and, what everyone wants to know, his name. While Brady kept his comments on the new arrival to a minimum, he did say that they have yet to choose a moniker for the little guy.
"It's a boy," he said, "let's talk football."
For those keeping score, this is the first child for the 29-year-old catwalker, and the second child—and son—for Brady. The 32-year-old footballer already has a 2-year-old son, John, from his relationship with Bridget Moynahan, who has already offered up her gracious congratulations.
"I wish [Tom and Gisele] the best with their baby," she told People. "I'm sure my son will enjoy having a half-sibling. I ask the press to respect our privacy while we are welcoming this new addition to our family."
The birth caps a banner year for Bündchen and Brady, who tied the knot with a bang last April.
(Originally published on Dec. 9. 2009 at 6:50 a.m. PT)