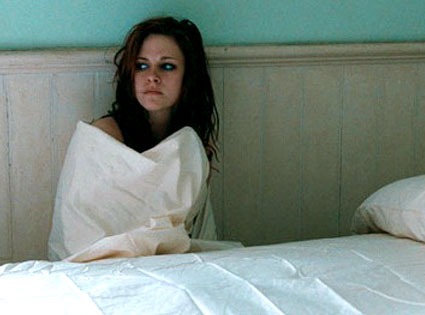 Kristen Stewart is about to go from a sexually frustrated teenager in New Moon to a stripper/hooker in her upcoming drama Welcome to the Rileys.
K.Stew stars alongside heavy hitters James Gandolfini and Melissa Leo in the indie flick, set to compete at the Sundance festival in January.
If the following promo shots aren't enough to make you want to check out Kristen's flick, then perhaps her buzzworthy review will catch your attention:
We're told word around Hollywood is that Kristen gives a good "serious" performance:
"I've heard she's great in the film," one of our studio moles tells us. "Melissa and James also give fantastic performances, but that's already expected of them. Even though Kristen has played serious roles before, ever since doing the Twilight films she has to prove herself as an actress more, now. Apparently she does that."
If you remember, back in June, Melissa Leo told us how wonderful working with Kristen was calling Stewart "clever" and "smart."
Sundance is going to be huge for Kristen; she also has The Runaway's premiering in Park City, Utah. But we have a feeling she'll pull 'em both off. After all, her acting practically carried New Moon, anyway.
Check out more stills from Welcome to the Rileys...