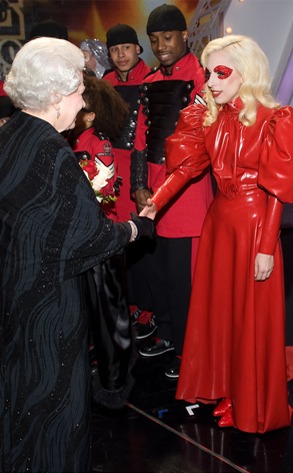 Bauer-Griffin.com
Monday night, Lady Gaga performed for Queen Elizabeth II at the Royal Variety Performance in Blackpool, England.
Lady Gaga being the awesome person that she is, decided to dress up like Queen Elizabeth I (if the 16th century queen had had a thing for bright red latex).
It's campy, covers her ass, references the past and yet is not over-the-top insane. Just more like "Aw, Gaga, we see what you did there!" We might go as far to say it's our favorite Gaga look yet.
And, compared to what a certain other performer wore that night, it's completely appropriate Queen-meeting attire.