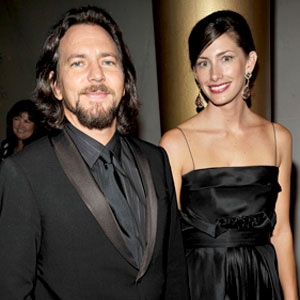 Kevin Mazur/Getty Images
Eddie Vedder is getting married.
I can exclusively reveal that the Pearl Jam frontman, 44, and his longtime girlfriend, model Jill McCormick, 32, got engaged this weekend…
It all went down on Friday night in Washington, D.C., according to a source.
The couple were in the city for Sunday's Kennedy Centers Honors gala, in which Vedder performed as part of the tribute to honoree Bruce Springsteen.
Vedder and McCormick have two daughters, 5-year-old Olivia and Harper Moon, 15 months.
This would be Vedder's second marriage and the first for McCormick.
No word yet from Vedder's rep.
________
In other celebrity couples news, is Russell Brand ready to settle down with Katy Perry? Find out here.