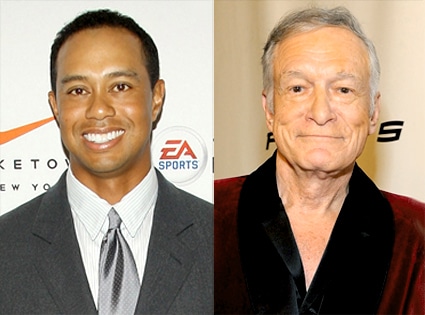 Stephen Lovekin/Getty Images; Charley Gallay/Getty Images
Hugh Hefner wasn't surprised one bit when he heard about allegations of Tiger Woods cheating on his wife.
"I think the only surprise in it, quite frankly, is that anybody would be surprised," the Playboy mogul tells me exclusively. "If you're a good-looking guy and young and healthy, the notion that there would be something else going on, well, marriage is just a convenience.
"It's very nice for raising kids," he adds, "but the notion that monogamy lasts forever is a wish!"
So does Hef want the golf pro's alleged mistresses stripping down for Playboy?
"We're not looking for scandal, but I don't know," Hefner says of the possibility. "We'll see."
With another season of The Girls Next Door coming to close (the finale airs this Sunday), Hef is now thinking about the holidays at the Playboy Mansion with his new girlfriends, Crystal Harris and the Shannon twins.
"All the families will be here," Hef says. "The twins' grandmother, who is in effect their mother, who lives in Florida, will be here for Christmas. Crystal's mother and father were over for Thanksgiving and will be here for Christmas and New Year's as well."
Hef politely declines to reveal what will be under the tree for his trio of young ladies. He simply says, "There will be a lot of nice surprises."