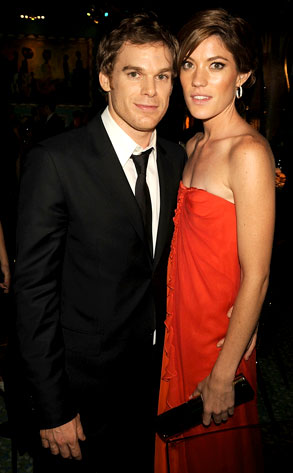 Jeff Kravitz/Getty Images
If you've been obsessed with Dexter lately, you are not alone.
"I'm nerding out right there with you!" Jennifer Carpenter (aka Mrs. Michael C. Hall) tells us, while admitting that she stuck around the set to watch the last few scenes of the finale because, "I couldn't wait to find out!"
The first of Dexter's final two episodes airs this Sunday on Showtime, and according to Jennifer (who kicks serious gluteus maximus as her real-life husband's onscreen sis, Debra Morgan), the fourth season finale is well worth the wait—though you might need to invest in a little psychotherapy after it.
"I hope you have a good time talking to your therapists about it because it's beyond whatever you may think," Jennifer says.
So what's in store? Will Deb find out Dex's big secret? Without giving away anything too spoilery (we don't want to be responsible for that therapy bill!) here's the awesomeness Jennifer reveals...