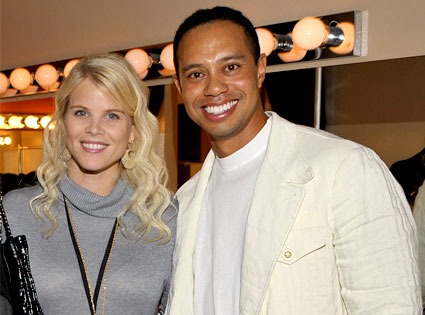 Lester Cohen/Getty Images
As we wait for a full accounting of the perplexing drama that's been playing out around Tiger Woods, one question is being repeated frequently.
What's the story on Woods' beautiful wife, Elin Nordegren?
Even the golf great's biggest fans don't know much about the platinum-blond stunner. Up until last week, she had been as private as the much-photographed wife of an internationally revered star can be.
But sifting through the info out there, here are the five things you should keep on the front burner:
• She's a twin! The Swedish beauty has an identical sister, Josefine, which means double the pleasure for fans of Nordegren's swell looks.
• She worked as a nanny! Nordegren and her sister worked for pro golfer Jesper Parnevik, and it was through that job she eventually met Tiger Woods.
• She thought Tiger was weird! The golf god first got a friend to ask Nordegren out for him and she shot him down, according to Sports Illustrated. "She thought it was so weird and pathetic. Of course she said no."
• She got engaged on safari! After freaking out a ranger by wandering off on their own in the wilds of South Africa, Tiger and Elin not only returned safely but she was also sporting a massive engagement ring. "The diamond was half as big as my finger," the ranger told People at the time.
• She gave birth to the couple's first child while Tiger was out playing golf! OK, so he was teeing off at the U.S. Open, but still...
In any case, the couple now have two beautiful children, Sam and Charlie, and for their sake we hope this all works out for the best.
________
Get everything we have on Tiger Woods, and be sure to catch on-the-ground reports from Jason Kennedy in Florida on E! News at 7 and 11:30 p.m. ET/PT.