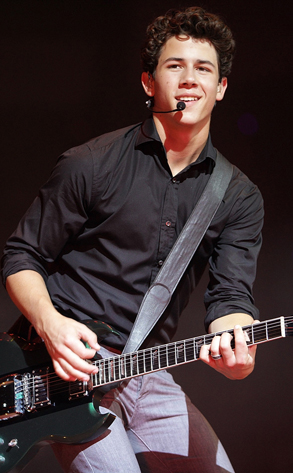 Rob Hoffman/JBE/Getty Images
Nick Jonas is striking out on his own. Sort of.
The 17-year-old star is planning to hit the road in January with his alternaband, the Administration, for a monthlong tour.
Jonas started working on an album with the quartet in Nashville earlier this year, while the Jonas Brothers were on a break from crisscrossing the globe. Who I Am by Nick Jonas & the Administration is due out Feb. 2.
The band will make their performance debut on the Grammy Nominations Concert Live! special, airing Dec. 2 on CBS. Their tour kicks off a month later in Dallas and wraps up Jan. 30 in Berkeley, Calif.
"With this tour we're going to try to accomplish the same thing we did in the studio," Nick said in a statement. "That's capturing some heart and soul in the music, and having fun doing it."
He also tweeted this afternoon, "Make sure to tell your friends... Maybe there's even a trending topic waiting to happen... : )"