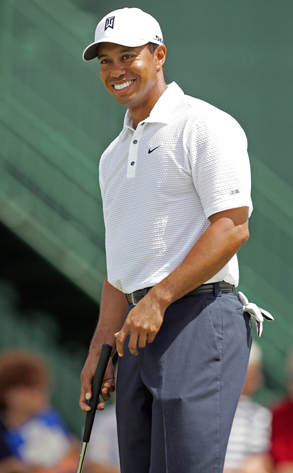 Allen Eyestone/Palm Beach Post/ZUMA Press
When it comes to standing by a prize endorser, Nike is just doing it.
Tiger Woods' sneaker-happy pals have finally weighed in on the brouhaha that has jeopardized his good name—and temporarily prevented him from modeling their sportswear on the links.
"Tiger and his family have Nike's full support," the Swooshed Ones said in a statement today. "We respect Tiger's request for privacy and our thoughts are with Tiger and his family at this time."
However, not all Tiger-touted brands are falling in line. AT&T declined to comment when asked about how the incident would impact Woods' endorsement.
As for Gillette, whose razors and other manly man products Woods has endorsed since 2007, the company doesn't feel the need to comment.
"Gillette isn't issuing a statement on the subject," a spokesperson said, referring to Woods as a "Gillette Champion." "We feel that Tiger's statement speaks for itself…Tiger has appeared in marketing programs supporting Gillette blades and razors, shave preps, antiperspirants/deodorants, body wash and hair products."
Just in case you forgot Gillette makes all that stuff.
—Reporting by Lindsay Miller
(Originally published Nov. 30, 2009, at 1:47 p.m. PT)