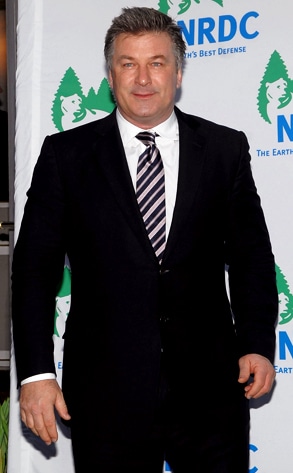 Jamie McCarthy/Getty Images
30 Rock: Alec Baldwin has fallen and hit his head. OK, not really, but that's the only way we can explain the comments he's made to Men's Journal, saying he will quit showbiz in 2012 after his contract is up with 30 Rock. "I don't have any interest in acting anymore," he told the mag. "I'm not young, but I have time to do something else." He said he also considers his "entire movie career a complete failure." Yo, Alec! Who cares about movies? You're only the most successful TV comedy actor around. (For evidence look to all those trophies crowding your mantel.) If 30 Rock goes on for 30 years, Jack Donaghy better be there.
Thin Ice: The new Dancing With the Stars on skates has crowned its hosts (Elisabeth Hasselbeck and Kurt Browning) and judges (Kristi Yamaguchi and Dick Button) and will premiere March 19 on ABC.
Lost: Holy kickass promo! Since ABC and Lost's producers have decided not to show a single frame of the upcoming season, at least one international outlet (Spain's Cuatro network) has busted out what boss Carlton Cuse just retweeted is the "best promo ever"...
Wouldn't it be awesome if in working up this fun little promo the Cuatro peeps accidentally spilled the beans on what the whole series is about? It certainly makes sense...
Will you be watching Lost? Thin Ice? An Alec-less 30 Rock?