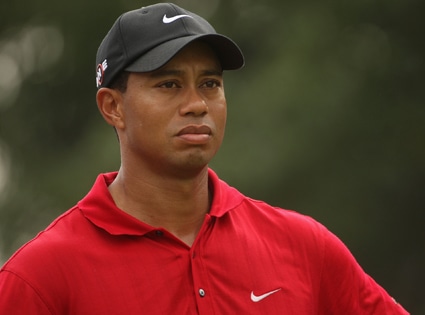 Andrew Redington/Getty Images
Tiger Woods apparently isn't ready to talk turkey...or more specifically, what happened over his Turkey Day weekend.
To the surprise of no one, the links star today announced he is bailing on his own tournament in Southern California this week as questions continue to swirl over his solo car crash and rumors of infidelity.
In fact, not only is Woods withdrawing from the Chevron World Challenge at Sherwood Country Club in Thousand Oaks, Calif., he has cleared his calendar of all commitments for the rest of the year. He is blaming the cancellation on the injuries sustained during the accident.
"I am extremely disappointed that I will not be at my tournament this week," Woods says in a statement posted on tigerwoods.com. "I am certain it will be an outstanding event and I'm very sorry that I can't be there."
"We support Tiger's decision and are confident the strong field and excellent course will provide an exciting week of competition at the Chevron World Challenge," says Greg McLaughlin, president and CEO of the Tiger Woods Foundation, the prime beneficiary of the tournament.
Woods says he will return to the links next year.
________
Tiger Woods is a class act. These guys? Not so much. In fact, they'll probably leave you saying, "What a douche!"