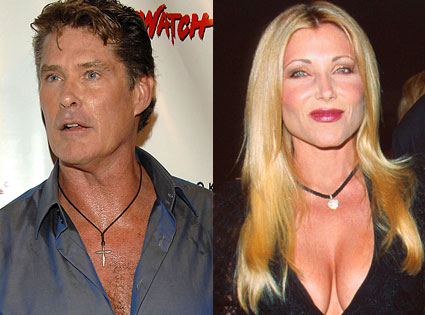 Darby Shaw/ZUMAPress.com, Chris Delmas/ZUMAPress.com
Rough Thanksgiving for the artists formerly known as Mr. and Mrs. Hasselhoff.
The lawyer for David Hasselhoff is trying to tamp down reports that the sobriety-challenged former Baywatcher spent the holiday weekend on a psych hold in a Los Angeles hospital.
Meanwhile the lawyer for his ex-wife, Pamela Bach, will be busy after she was busted for a DUI Saturday evening. More on that later; first let's focus on the Hoff.
According to an unconfirmed Radar Online report, Hasselhoff was hospitalized after he suffered some kind of seizure at his Encino home shortly before noon on Friday. Then today, the gossip site claimed the 57-year-old America's Got Talent judge was being kept in the hospital on a 5150 psychiatric hold.
But his attorney, Mel Goldsman, tells E! News those reports are false.   
"David's at home," says Goldsman. "He's fine. I'm not sure where that information is coming from."
Hasselhoff, who has admitted to years of struggles with the bottle, was most recently hospitalized in September. His camp insisted it was for a bad reaction to prescription medication, however, and not due to alcohol poisoning.
In any event, the new drama could be more fodder for his in-the-works reality series. A&E confirmed earlier this month that it was in talks for a show focusing on the tabloid-friendly Hoff and his two daughters with Bach.
Speaking of Bach...
The 46-year-old sometime actress, who has her own history of alcohol abuse, was arrested in Los Angeles around 8 p.m. Saturday after getting pulled over by the California Highway Patrol and then flubbing a sobriety test. She had breathalyzer tests of .14 and .13, the CHP said, well above the legal limit of .08. Bach was booked at the Van Nuys Jail, and released Sunday morning.
"She is home doing fine," her rep tells E! News. She is due in court in Van Nuys Dec. 24.
In other words, this definitely won't be the happiest of holidays.