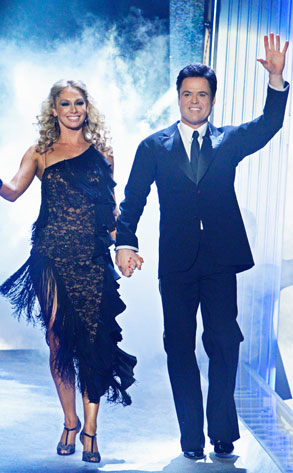 ABC/ADAM LARKEY
Should Donny meet Marie at Thanksgiving tomorrow, the Osmond brother best go easy on the Osmond sister with the Dancing With the Stars trash talk.
See, while Donny owns Marie when it comes to DWTS wins (one versus zip), Marie owns Donny—big-time—when it comes to DWTS ratings.
Last night's Donny-crowning finale fell more than 5 million viewers shy of the nearly 25 million who tuned in the fall 2007 closer, featuring Marie, preliminary Nielsen estimates showed.
But before Marie breaks into a flag-drawing touchdown dance, it should be said that against 2009 competition, Donny's show did just great, averaging a season-high 19.2 million.
Oh, and also, he won the mirror ball, and Marie didn't.