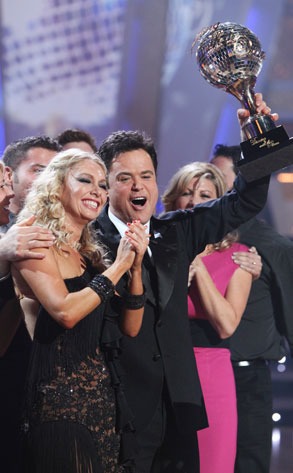 ABC/ADAM LARKEY
Attention, astronauts: If you see a huge beam of light coming from somewhere near Donny Osmond's house in Utah, be not afraid.
"I'm probably putting it on top of my house with a spotlight on it for all the world to see," Donny told us tonight of his shiny new disco ball trophy.
We hung out backstage after tonight's live season finale of Dancing With the Stars, where Donny was crowned the winner and was downright giddy.
"I'm so happy. I'm so happy. I'm so happy right now!" he sang out. "I'm on cloud nine!"
And he wasn't the only one beaming...
As we interviewed Donny and his partner Kym Johnson, Kelly Osbourne proved she's an all-for-one-and-one-for-all kinda gal by jumping right in to smooch them and squee: "I'm so happy for you, I'm so happy for you!"
(And you know what? We believe her.)
So why was it a different tune for runner-up Mya? And why were the judges so surprised by Donny's win?
"We didn't know who was going to win right up until the moment that they announced it was Donny!" Carrie Ann Inaba revealed to us after the show. "I think we had Mya and Donny matched, but it was emotional, exciting. It was surprising. It was good."
Meanwhile, Mya, who has been a frontrunner all season long, was feeling some conflicting emotions. "There's so much. There's disappointment, dedication, passion and commitment…I've learned multiple amounts of things. It's an experience that you'll never forget for the rest of your life and that you want to share with others."
Kelly O. said she has no regrets. "[Before the show], I was the definition of being sick and tired of being sick and tired, and I needed a change. I threw myself in and what I got out of this is priceless."
As the studio cleared out and the contestants were escorted back to their dressing rooms, Donny the Champ still looked shaken as he clutched his disco ball trophy. "I'm numb. I can't believe I'm holding this right now!"
Time to go buy that spotlight.
(Originally published Nov. 24, 2009, at 11:37 p.m. PT)
________
Do you think Donny should have won? Was Mya robbed? Or even Kelly, given that she was the most improved? Check out the DWTS Rehearsals gallery and then weigh in down below.