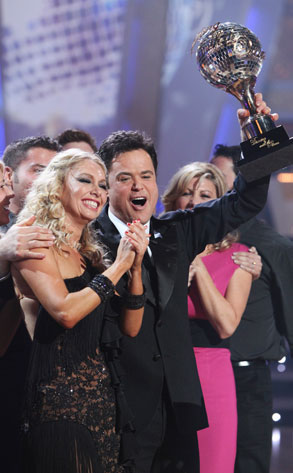 ABC/ADAM LARKEY
Attention, astronauts: If you see a huge beam of light coming from somewhere near Donny Osmond's house in Utah, be not afraid.
"I'm probably putting it on top of my house with a spotlight on it for all the world to see," Donny told us tonight of his shiny new disco ball trophy.
We hung out backstage after tonight's live season finale of Dancing With the Stars, where Donny was crowned the winner and was downright giddy.
"I'm so happy. I'm so happy. I'm so happy right now!" he sang out. "I'm on cloud nine!"
And he wasn't the only one beaming...