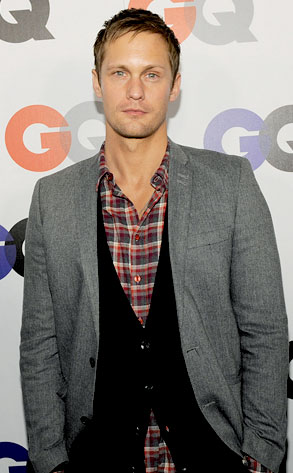 AP Photo/Chris Pizzello
Dear Ted:
Have you seen the paparazzi video of Alexander Skarsgård and Kate Bosworth? Skarsgård was furious, like ready-to-punch-someone angry. What gives? He's always been so friendly with them.
—LC
Dear Celeb Gone Crazy:
Embarrassed maybe? We would be, too. Maybe he's not as adept at babe-trotting as we thought?
Dear Ted:
Why is everyone hating on Rachel Bilson and Hayden Christensen's relationship? I think they make a cute couple, though at times I get a gay vibe from Hayden. Is he hiding something? What's your take on these lovebirds?
—Alva
Dear Broken Hearts:
The haters are prob just bitter that Rach didn't stay with her O.C. love Adam Brody...you have to admit, they were pretty cute together. And if Robsten's taught us anything, no one likes it when their onscreen favorites aren't with each other.
Dear Ted:
What did you think of New Moon? I'm not a fan, so maybe that's why I didn't enjoy it as many others have. Anyway, do you think Summit should send you a check for the overexposure you gave New Moon and its stars? I think they should, LOL.
—Dizzy
Dear N.M. Supporter:
No comment. And that'd be a lovely holiday gift from Summit, just send the check to the Awful Truth, thanks!
Dear Ted:
Would you say that Nevis is bi for pay, but gay all the way?
—Kiss
Dear Rhyming Guesses:
Nevis is most definitely not bi for pay or gay all the way. Lots of guys on the other side of the pond experiment around. It's not as big of a deal over there.
Dear Ted:
Call me naive, but how can Fake à la Ferocity travel around the world and not get caught with heroin? Surely she can't risk withdrawal on her jaunts. Is this why she has a pilot's license?
—Nan in Wisconsin
Dear Drugged Traveler:
Fake's on the synthetic stuff now, that's not illegal.
Dear Ted:
Has Reese Witherspoon ever been a Blind Vice?
—Colleen
Dear Reese Gone Bad:
Darling, don't you know? Crafty Reesey's one of our Blind Vice Superstars!
Dear Ted:
If Toothy Tile is really in such turmoil about his sexuality/beard relationship/Hollywood pressure/Grey Goose love affair, he seems to be hiding it rather well. Is he truly a liar and a coward, Ted? I am asking because I do believe I've guessed his identity, and if it is the person I am speaking of, I've always had a soft spot in my heart for this person, who seems such an otherwise good-hearted fellow. Please don't be coy and tease with lines like "Well I don't know, who do you think he is?" my dear. And also, does his family know about Grey Goose?
-Jkr