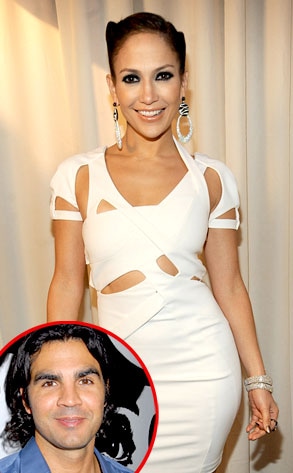 Kevin Mazur/AMA 2009/Getty Images; Barry King/Getty Images
Ojani Noa says he's moved on since his brief marriage to Jennifer Lopez more than a decade ago.
Minus the 12-year-old home movies he's peddling and his desire to make a feature-length comedy that touches on their courtship, that is.
Noa, 35, has admitted to trying to sell footage of himself and Lopez from back in the day, but, he added, there is no graphic sexual activity on the video—and therefore no one should be making such a big deal about it.
"They think I have a sex tape with her and that I'm trying to sell it," Noa says in an exclusive interview with E! News. "My tape is from our honeymoon, the wedding, us hanging out. There's no nudity—maybe one spanking.
"There's moments of her fighting with her mom...couples having fun and kissing. If someone has a sex tape, it's not me."
Lopez has shut him down at every turn, winning an injunction that prevented him from peddling a tell-all book about their relationship that included allegations of infidelity on her part, and scoring a so-far temporary court order to shut down his film project.
Having already won a $545,000 judgment against Noa in connection with his ill-advised book project, which violated a previous confidentiality agreement they had, Lopez sued him again last month for $10 million over his latest stunt.
"I'm not going to harm anybody," Noa, 35, says. "I'm a great guy. If I was going to hurt anybody I have had many, many chances to do it. I always wish her the best. The mockumentary is about me escaping from Cuba and living here. They think it's about her but it's not. It's about me."
Never mind the proposed title, How I Married Jennifer Lopez: The J.Lo and Ojani Noa Story.
The two met in Miami at the restaurant he was working at and, after a brief courtship, tied the knot in 1997. Divorce proceedings began 10 months later.
He and his ex remained friends, though, Noa says, adding that Lopez even asked him to manage her Pasadena restaurant, Madras, in 2002.
Noa was ultimately fired, however, and he says that he called Lopez but never heard back from her.
Despite the fact that his name keeps popping up purely in connection with J.Lo, Noa claims that he has turned the page.
"I have moved on," he says. "If I wanted to make a buck, I would have done many interviews, and I never did anything."
Another hearing on the movie issue is scheduled for Dec. 1.