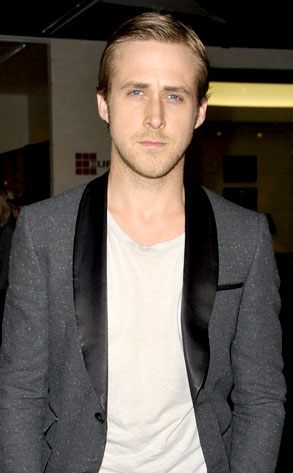 John Shearer/Getty Images
Ryan Gosling strutted out of his Hollywood gym like he was just walkin' outta the bathroom or somethin'.
The increasingly pumped-up stud-actor was pulling a hoodie over his barely there tight wife-beater, but that's just the start of it. The six-foot-one nascent muscle dude was wearing flimsy track pants that might as well have been pajama bottoms, 'cause we all know what one wears under PJs, right? Same thing with Ryan's black trainers, which could easily have revealed Ryan's religious affiliation.
Either that, or Gosling had his large pet snake with a swollen lip in there, just floppin' around and havin' a good ole time.
Freshly worked out, happy Ryan climbed into his bigass gas-guzzlin' SUV, like it was a perfectly normal thing for an endowed movie star to dangle 'n' go. And I'm sorry, Rachel McAdams is an idiot.
Crazy for private-style partying, also in Hollywood, was...