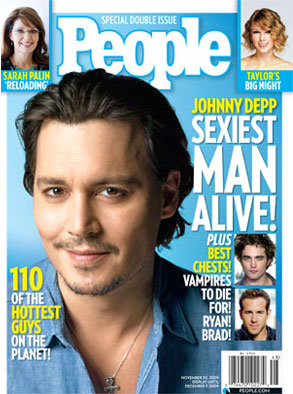 People
Dear Ted:
A.T. is part of my early morning ritual, helping me start the day on a light (or juicy) note before diving into work. Johnny Depp as People's Sexiest is fine by me—he's certainly doable and sexy—but what in the world has he done to his face? I swear I didn't even recognize him in that picture. What do you make of the recent changes to his face, and do you think he can tell how strange he looks? I've got nothing against fillers and corrective treatments—if they're done right the results can be rejuvenating and natural-looking—but it seems like so many stars go overboard or get terrible work done. Why is that? You'd think a big star would be choosier and go to the best. Also, why would People choose such a terrible photo for the cover and why would his people approve that ugly mug shot? Thanks!
—Kitty
Dear Depp Be-Gone:
I think the front pic isn't all that bad; it's pretty hard to make Depp look ugly.
Dear Ted:
I have some questions regarding Bradley Cooper. I get the feeling that he is a colossal egomaniac. There are never pictures of him out with friends. Does he have famous friends, and if so, who are they? I don't think he is gay, but there is something about his personality he is hiding from us, am I right?
—Emma
Dear Hermit Crab:
Coop isn't showing his true self, that's for sure. Totally doable, as he may be.
Dear Ted:
I was wondering if you ever get threatened by publicists whenever you publish a Blind Vice or other items rendering a particular celebrity's image suspicious. Aren't you worried for your safety? I admire you for putting the truth out there, or at least the best you can.
—Big Fan
Dear Worrywart:
You've got no idea, babe! I'm more concerned about a backlash of Twilight fans than publicists, though. They're toughass mothers!
Dear Ted:
OK, you've given us a list of 12 guys who are not Toothy Tile. How about a list of 12 guys who are not Nevis Devine? Love ya.
—Salrob
Dear Trying Easy:
Nevis has a few more years to go until he reaches the legendary status of Toothy. I'll think about it, though. Good idea.
Dear Ted:
I'm gonna bitch. I have read you forevah but you have to stop the jumping to the next page to continue reading a storyline. It truly is fubar and takes way too long to load. (And I usually never complain about a delayed load! LOL) Love you, love the furbabies, mine's a rescued lab that has more love in his eyes than a queen has mirrors. (Scorpios are awesome, right, Ted?)
—KikiTopaz