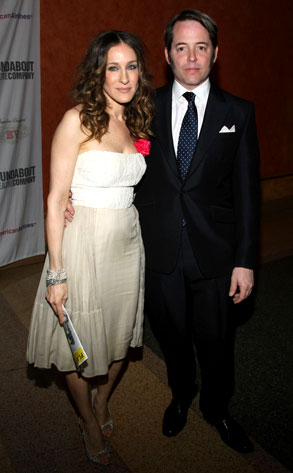 Jason Kempin/Getty Images
Let's just say this doesn't look good for the defense.
The surrogate mom who gave birth in July to Sarah Jessica Parker and Matthew Broderick's twin girls took center stage today in her own courtroom drama. Michelle Ross testified in the criminal trial of an Ohio lawman accused of orchestrating a break-in at her home to dig up dirt he could then sell to the tabloids.
Ross said she learned of the alleged scheme by Martins Ferry Police Chief Barry Carpenter from a paparazzo, who had come to town hoping to snag a picture of her while she was pregnant with the Sex and the City star's children.
She said she noticed someone had rifled through her belongings and, per the local WTOV-TV, some items were misplaced, including a plaster cast of her tummy when she was preggers with her own son, not Parker and Broderick's.
Ross, who refused to be videotaped or voice recorded while on the stand, also told the jury that ultrasound pictures and documents with tax information had disappeared.