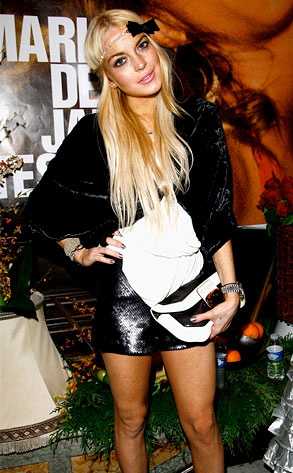 Julien Hekimian/Getty Images
Maybe this is why Lindsay Lohan seemed so happy.
On the heels of her less-than-stellar stint in the fashion world last month, it seems Linds believed she'd been given a copy of the Ashlee Simpson-wentz second chances handbook—revealing she'd be developing a collection with famed jeweler Pascal Mouawad, who has collaborated in the past with the likes of Nicole Richie and Heidi Klum.
If only she'd checked with Mouawad first.
"We had spoken about doing a jewelry line, but it's not happening," he tells E! News. "It was a few months back, it was going to be for Bebe, but it never happened."
Instead, his next big baublelicious event takes place at the Victoria's Secret Fashion Show, taping later this week to air on CBS in December.
"Twenty million dollars' worth of jewelry will be on the models in the show," says Mouawad. "There are 10 huge diamond sets."
And that leaves no ice for Lindsay...Though we can't help but feel that the aspiring fashionista could use a minute away from the drawing board to get her priorities in order.
(Originally published Nov. 17, 2009, at 11:27 a.m. PT)