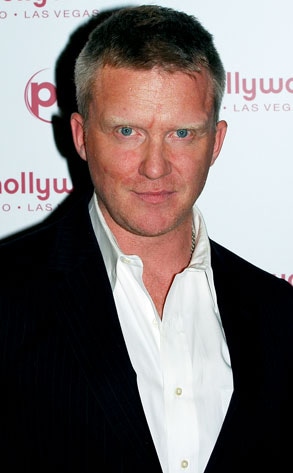 Bruce Gifford/Getty Images
It's always the quiet ones you've got to watch out for. Brian Johnson, we're looking at you.
A temporary restraining order has been issued against erstwhile Breakfast Clubber Anthony Michael Hall by his ex-girlfriend, who claims, according to the New York Post, that the actor attempted to kick down her apartment door last week.
Diana Falzone, a radio personality and (irony alert!) relationship expert whose last column was titled "How Not to Date a Loser," filed a police complaint a week ago. She had dated the actor for roughly a year, but the duo is no longer together.
She reportedly said that after Hall's failed attempts to kick down her door, she let him in her apartment, only to have him bash her head against the wall.
The 41-year-old former Brat Packer allegedly stalked her prior to the attack, and the order bars him from "assault, stalking, harassment, menacing, reckless endangerment...intimidation," among other behavior no-nos.
While Hall himself, who suffers from a mild case of bipolar disorder, has yet to speak out on the incident, his spokesman told the Post that "all of the allegations are erroneous and will be addressed accordingly."
Still, it could have been worse. He could have had a flare gun.