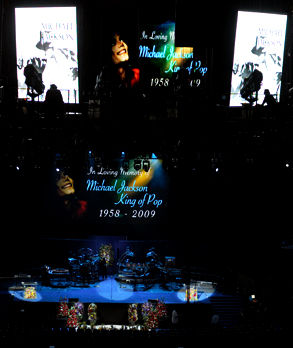 EPA/ANDREW GOMBERT POOL
The stakes have gone up along with the price tag.
The Los Angeles City Council is still gunning for Anschutz Entertainment Group to reimburse it for the star-studded memorial service for Michael Jackson that took place at AEG-owned Staples Center in July, and the Public Safety Committee will review the issue at a meeting next week.
While AEG and the Jackson family hosted the actual service, some guys with calculators have determined that the city spent $3.2 million to help pull it off, mainly in the form of security and increased police presence around the venue and locations where the Jackson family congregated in the days following the King of Pop's death on June 25.
The cost was originally estimated at $1.4 million.