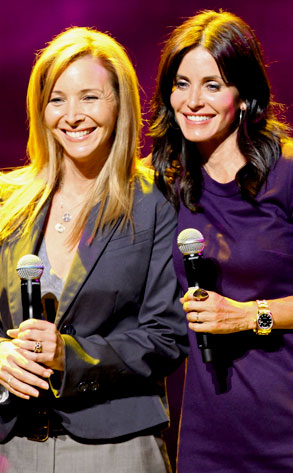 Christopher Polk/Getty Images
Lisa Kudrow—with her family in tow—was hanging out with Courteney Cox, David Arquette and their little ones inside a PS Arts Express Yourself event in Santa Monica.
The former Friends are still besties as they devoted their time together to raise over $600,000 to help restore art education in public schools.
Jennifer Aniston—put down that margarita and help!
Lisa and Court have been hanging lots, as of late.
Kudrow told E! News she shot a guest spot for Cox's hit show Cougar Town last week. Lisa will play a dermatologist who hasn't done anything to her face, and said it was "great" working with Courteney again.
We want to see all three girls onscreen again together, but doesn't look like it's gonna happen. How long till Jen realizes the inevitable? That she should get her pilate'd ass back to TV. It's working for C.C., and hell, Aniston got an Emmy nom out of her guest stint on 30 Rock.
Another (different) kind of couple out in Los Angeles was...