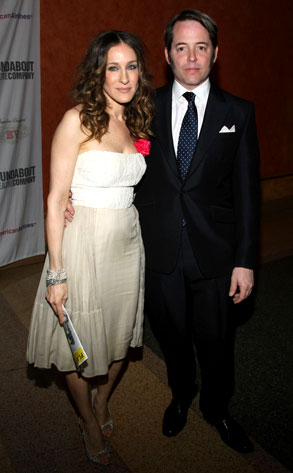 Jason Kempin/Getty Images
UPDATE: The special prosecutor appointed to the case, T. Shawn Hervey, just announced that the surrogate mom is on the government's witness list and will testify against Carpenter, as will two celebrity photographers. Although her identity has hardly been a secret, Hervey today publicly named Michelle Ross as the surrogate who was allegedly targeted by the plaintiff.
________
Sex and the city? Check. Now it's time for justice in the boonies.
Sarah Jessica Parker and Matthew Broderick will be carefully monitoring the goings-on in an Ohio courtroom this week as the trial unfolds involving a local lawman accused of masterminding a break-in at the home of the surrogate carrying the A-listers' twins to dig up dirt on the celeb twosome for the tabloids.
Jury selection kicked off today in the case of Martins Ferry Police Chief Barry Carpenter, 40. He's facing multiple felonies, among them burglary and receiving stolen property, and has been suspended without pay pending the trial's outcome at the Belmont County Common Pleas Court.