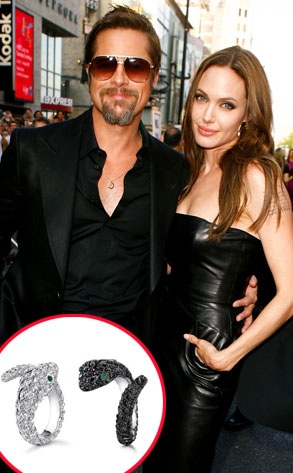 Jeff Vespa/ Getty Images, Courtesy Asprey
When you're as shiny as Angelina Jolie and Brad Pitt, it would stand to reason that you would create shiny things too, right?
Hollywood's most golden couple have teamed with high-end jeweler Asprey for a capsule collection called the Protector, according to Women's Wear Daily. The shimmering gold and silver accessories are inspired by snakes.
You know, because nothing says precious metals and stones like slithering creatures. And dudes with really hideous beards.
The limited-edition collection hits stores this week, with prices starting at $525 for a silver baby spoon. Proceeds benefit Education Partnership for Children of Conflict, which Angie cofounded.
Apparently, the mega mama received a snake ring just before giving birth to Shiloh and she considered it a protector of her family.
Speaking of families, you'll never guess who else is designing glittery baubles…
The Kardashians!
Khloé Kardashian Odom blogged a peek at the Kardashian Collection, her collaboration with sisters Kim and Kourtney and designer Virgins, Saints & Angels. She says the line is "inspired by our Armenian culture and each piece tells a story."
Courtesy The Kardashian Collection
Whose jewels would you buy?
________
They aren't the only stars who've thrown their hats in the designer ring! Try to name the other creators and then check out our Celeb Fashion Lines gallery to see who you missed.