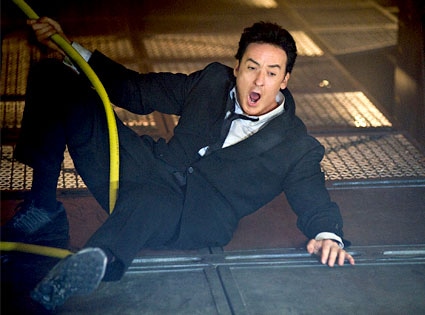 Sony Pictures
The world may live to see 2013, after all.
The apocalyptic-minded 2012 started off with a $65 million box office bang, per estimates, beating projections and the weekend competition. 
Elsewhere, bigger wasn't always better—or bigger. In limited release, the potential Oscar heavyweight Precious continued to loom incredibly large ($6.1 million at only 174 theaters), while Wes Anderson's Fantastic Mr. Fox  enjoyed a fantastic debut ($260,000 at four theaters). 
Taking a look inside the numbers:
• 2012's $65 million weekend isn't even half of what made its debut so huge. Overseas, the disaster epic made like Michael Jackson and grossed $160 million—the fifth-biggest international opening ever. Add 'em together, and the $200 million behemoth has already covered its budget, and then some. Its estimated worldwide total as of today: $225 million.
• Hollywood hasn't had a $65-million opener since forever. Or since late May June, when Up Transformers: Revenge of the Fallen did the honors. (Sorry, that's the last time we go by our Mayan calendar.)
• 2012 is actually not Roland Emmerich's biggest ever. The last time the filmmaker ended the world, in 2004's The Day After Tomorrow, he got off to a $68.7 million start.
• In its second weekend, Jim Carrey's A Christmas Carol ($22.3 million) held very well, with ticket sales down only 26 percent from its debut. At the same time, the $180-$200 million extravaganza hasn't yet made as much in two weekends as 2012 did in one weekend ($63.2 million). Overseas business has been less than merry, too.  
• How remarkable is Precious? The Oprah Winfrey- and Tyler Perry-endorsed drama played at 174 theaters. George Clooney's The Men Who Stare at Goats played at nearly 2,500. The two films ended up just about even.
• Michael Jackson's This Is It was supposed to be out of theaters by now. And while it's losing steam (and theaters), it picked up another $5.1 million, and hung around long enough to—finally—depose Miley Cyrus' Hannah Montana vehicle, Best of Both Worlds, as the top-grossing concert film: $67.2 million (and counting) versus $65.3 million. Earlier in the week, the Jackson film topped $200 million worldwide, and now stands at $222.6 million overall.
• Hollywood's $100 million club has two new members: The $70 million Couples Retreat ($102.1 million), and the $15,000 Paranormal Activity ($103.8 million). 
• A tale of two hipster family films: Spike Jonze's Where the Wild Things Are ($73.4 million overall) started big, but dropped out of the Top 10 after four weekends, having failed to match its $100 million budget domestically; Wes Anderson's considerably cheaper Fantastic Mr. Fox started small, but with a blockbuster per-screen average (a weekend-best $65,000).
• Astro Boy ($1.7 million) zipped out of the Top 10 after only three weekends, and only $17.9 million overall.
• The rock-powered Pirate Radio ($2.9 million) was no Fantastic Mr. Fox or Precious, but it did almost make the Top 10, despite bowing at fewer than 1,000 theaters. 
Here's a look at the weekend's top-grossing films based on Friday-Sunday estimates as compiled by Exhibitor Relations:
2012, $65 million
Disney's A Christmas Carol, $22.3 million
The Men Who Stare at Goats, $6.2 million
Precious, $6.1 million
Michael Jackson's This Is It, $5.1 million
The Fourth Kind, $4.7 million
Couples Retreat, $4.3 million
Paranormal Activity, $4.2 million
Law Abiding Citizen, $3.9 million
The Box, $3.2 million
(Originally published Nov. 15, 2009, at 9:06 a.m. PT)