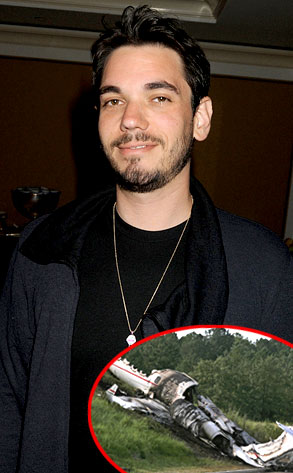 Jeff Kravitz/Getty Images; AP Photo
UPDATE: DJ AM's estate and the various defendants, including Clay Lacy Aviation, Goodyear Tire & Rubber Company and Learjet, reached an undisclosed settlement in January 2010.
_________________________________
DJ AM was a successfully recovering addict before he was almost killed in a plane crash last year.
Or so says Adam Goldstein's family, which has amended the late record-spinner's negligence suit against the various companies involved in that fatal flight to include an allegation of wrongful death.
"The crash ultimately caused DJ AM's death," states the revamped suit filed Nov. 5 in Los Angeles Superior Court. AM, who had recently finished shooting the MTV intervention series Gone Too Far when he accidentally OD'd on prescription meds and cocaine, was forced to start taking pills again to cope with anxiety and pain from the burns he suffered in the fiery crash, according to the new allegations.
So, according to his family, he was going nowhere but down after the accident.