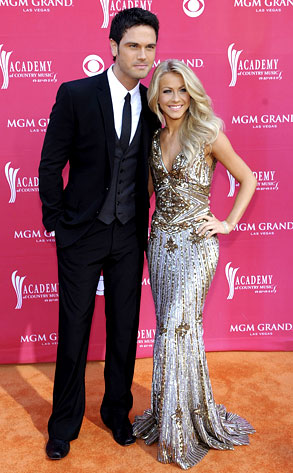 Denise Truscello/Getty Images
UPDATE: Julianne has confirmed that she and Chuck have entered the just-friends zone.
"We're both just really, really busy with our careers, and we spend a lot of time apart from each other, so we're just taking a little break right now, she tells People. "Honestly, Chuck and I are such good friends—we still hang out all the time, and we're still writing together."
________
Just 24 hours earlier, sources close to the couple were telling Since we've already learned that hand-holding equals a hot and heavy relationship, we'll have to apply that new rule to people who aren't in vampire movies as well.
Despite reports that 21-year-old Dancing With the Stars hottie Julianne Hough and her 30-year-old country boy Chuck Wicks had called it quits, the handsome pair may still be together.
And how do we know?
Because they were totally holding hands at the CMA Awards last night!