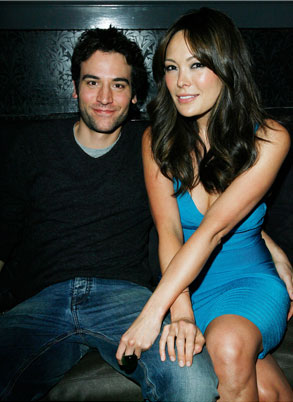 Donato Sardella/Getty Images
• TV Power Couple Shuts Down? It seems that the lovely Lindsay Price may have hit a rough patch in her life. First came news that ABC wasn't picking up new episodes of her witch dramedy, Eastwick, and now E! News reports that she and boyfriend Josh Radnor, star of CBS' hit How I Met Your Mother, have parted ways. Reps have declined to comment on the report. We feel bad for the poor sweet kid if it's true. Oh well, at least she's still beautiful and talented.
• Not a Shock: To the great disappointment of almost no one (or, to be fair and specific, only 3.6 percent of voters in our fall TV Save One Show poll), the Hollywood Reporter says that ABC is shutting down the Kelsey Grammer sitcom Hank and taking it off the air post-hasty.
• Don't Panic, Space Travelers: Ratings for the second episode of ABC's V dropped a sharp 29 percent in the 18-49 demographic, but we don't care. Elizabeth Mitchell and Morena Baccarin remain awesome.
Celia in Michigan: Please tell us that Gossip Girl isn't get canceled! If that happens, I will be so upset.