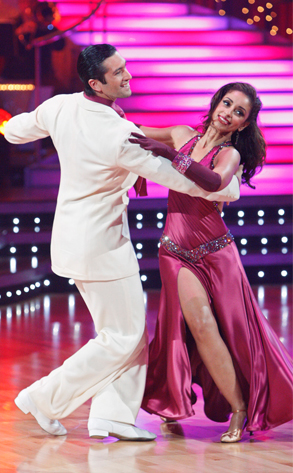 ABC/ADAM LARKEY
Perfection paid off for Mya.
As expected, the R&B songstress was voted into next week's semifinals on Dancing With the Stars.
But which three of her fellow celebs were given passage to join her?
As musical guest Susan Boyle knows, being the favorite doesn't necessarily mean you're going to go all the way.
For instance, the fans have been loving Donny Osmond all season, but their last glimpse of him had him looking like a Rocky Horror Picture Show reject.
Aaron Carter has smoothed over most of his initial kinks but had to dance for his life last week. Kelly Osbourne has regained her confidence, but do the voters still have faith in her moves?
Meanwhile, though Joanna Krupa galloped through her quickstep, Derek Hough's impressive choreography made their futuristic paso doble encore worthy in the judges' eyes.
But was it semifinal material?