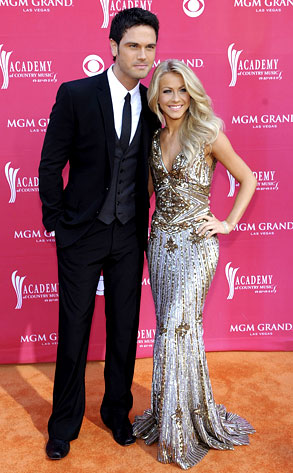 Denise Truscello/Getty Images
There's no guarantee that the couple that sambas together will stay together.
Julianne Hough and Chuck Wicks have called it quits, about six months since the aspiring country-music stars competed together on Dancing With the Stars and barely three months after the two bought a house together.
The seemingly sudden split was first reported by People.
"What's been fun is that we never argued at all," Hough told E! News after their run on DWTS ended with a sixth-place showing. "We've had a little tiff here and there, but about dance movements. It was fun. We had this passion. It was fun for us because we never argued."
Even now, according to People's source, they didn't argue about breaking up.
"This was mutual," the source said. "They both needed some time apart."
But they can't avoid each other just yet. Both are due to put in an appearance at tomorrow's Country Music Association Awards. Hough, 21, is scheduled to present, while Wicks, 30, will be working the red carpet for Entertainment Tonight.