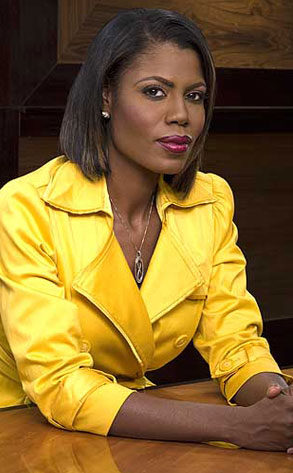 NBC
Television's greatest villains never really go away, do they?
Omarosa Manigault-Stallworth is getting her own reality show…and with Donald Trump, no less.
Omarosa's Ultimate Merger won't be yet another stab at working for the big cheese—this time it's all about the current seminary student finding a mate. She'll be choosing from a dozen potential suitors.
"Omarosa was a great personality on The Apprentice that was watched by over 40 million people as it became the No. 1 show on TV," says Trump, who's producing the series for the TV One network. "Omarosa is smart, witty and difficult, but all of those qualities will make for some very interesting entertainment."
In case you've forgotten, this isn't Omarosa's first, second or even third time at the reality-television dog and pony show. In addition to The Apprentice and Celebrity Apprentice, she tangled with Janice Dickinson on The Surreal Life, got competitive on the Battle of the Network Reality Stars and made brief appearances on Fear Factor, Celebrity Poker Showdown and I Love New York.