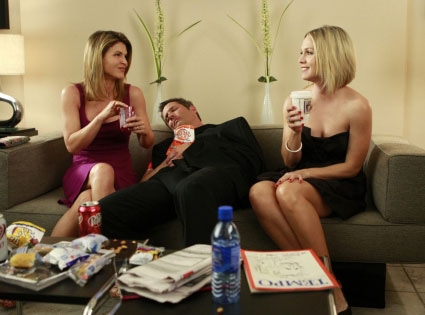 Michael Desmond / The CW
90210 fans let out a collective groan (well, we did, at least) at the end of the first season when a potential new love triangle was introduced.
Kelly cannot break up 2.0's version of Cindy and Jim Walsh, Debbie and Harry Wilson, played by Lori Loughlin and Rob Estes! Granted, they don't quite get along as peachy as the original parent pair, but they still have to stay together. They just have to.
Well, you can breathe a collective sigh of relief—Jennie Garth agrees wholeheartedly.
Jennie was in the middle of promoting her fabulous work with Trident and Smiles Across America, which brings dental health care to underserved kids, when we caught up with her last week, but she was happy to give us her thoughts on the Romance That Should Not Be.
"I'm not a big fan of that storyline," she told us exclusively. "It's just bizarre and weird."
Wait until you hear where it's going...
"I don't think it's going to go anywhere," Garth said decisively. "I'm not going to let Kelly be a homewrecker, so there's no place for it to really go."
Saying goodbye to another major storyline was considerably more difficult. Jennie recently filmed the upcoming death of her onscreen mother. Jackie Taylor Silver (played by Ann Gillespie in both versions of 90210) succumbs to cancer in an upcoming episode.
"It was surreal for both of us," Jennie said. "Ann Gillespie was so kind to come back and allow them to kill her like that. She and I were really pretty wrecked over it because she'd been playing my mom for so many years...It was really a very, very sad day at work."
However, she wouldn't say if Jackie and Kelly ever kissed and made up before they had to say their farewells. Nor did she know if the loss of her mother would send Silver (Jessica Stroup) running back to crazytown.
Luckily, Jennie is much less sad about all the story potential for her character in the new gay-themed storylines. (In case you haven't heard, Rumer Willis' character, Gia, will be hooking up with Jessica Lowndes' character, Adrianna, later this year.)
"If Kelly's a part of it, as far as being a guidance counselor, I think that that would be really great," she said. "I have absolutely zero knowledge of what is in store for Kelly at this point. You know more than me."
Are you as relieved as we are that a principal-guidance counselor hookup is not in the cards? Or do you think Debbie and Harry are still on shaky ground regardless? And are you sad to see Jackie go?
________
Swoon with us in our TV Couples We Love gallery!