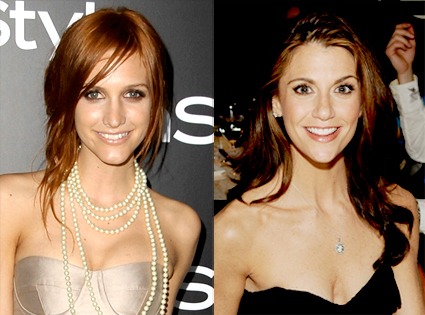 Jordan Strauss/Getty Image; Denise Truscello/Getty Images
Melrose Place/Dancing With the Stars: How's this for a little Hart to Hart?  After news broke that Ashlee Simpson-Wentz will be heading to Broadway to play Roxie Hart in Chicago, her predecessor, Dancing With the Stars' Samantha Harris, tells us she approves: "Ashlee is adorable and talented. She can bring in a younger audience plus has some international appeal." Hmmm... Maybe that's what the Melrose producers were thinking? A CW mole tells me Ashlee has already filmed her last scene for Melrose, and hubby Pete Wentz told us recently Ashlee dyed her hair black for an "upcoming role."
Glee: Don't look now, Finn, but your baby mama, Quinn, is totally sharing some hot and steamy fluids with Seth Cohen! After Just Jared speculated that Dianna Agron (Quinn) and Adam Brody (Seth) may be dating, after the two were spotted grabbing Starbucks in NYC, her rep tells us: "They are not dating. They are shooting a movie together." (That movie is The Romantics.) As long as they don't get in a hot tub together...
Supernatural: To all you fangirls currently crying in the fetal position, we can offer you no good news regarding the report that Jensen Ackles is officially off the market and getting hitched to his girlfriend. His rep tells us it's true. Sorry!
Morris in New Jersey: Who's going to die in the big plane crash on Desperate Housewives?
Well, thanks to our pal over at EW, we now know they're shooting at least one red herring: a "what if" scenario showing what would have happened if the jetliner killed Susan (Teri Hatcher). I'm hearing of an alarming storyline that is not a red herring that will devastate at least one of the leading ladies. Stand by for more on that a little later this week.
Got a burning TV question or comment? Email me at tvdiva@eonline.com.