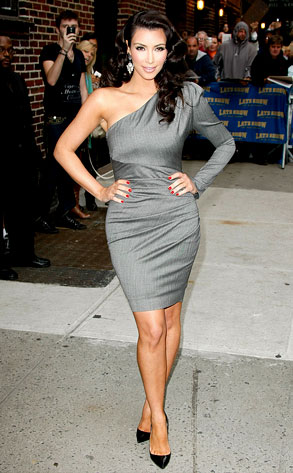 Jeffrey Ufberg/Getty Images
• Keeping Up With the Kardashians: Kourtney is pregnant, Khloé is married, and Kim...got a job? Yep, Kim Kardashian tweeted this morning, "Up and on my way to the set of CSI Wish me luck! Have the best day guys! xo." CBS reps confirm that today is Kim's first day of shooting for the Dec. 16 episode of CSI: NY. Kim and fellow guest star Vanessa Minnillo play a pair of hot would-be criminal masterminds.
• Mark Your Calendars: Showtime has announced premiere dates for the new seasons of three excellent series. Crazy mamas Edie Falco and Toni Collette are back at it when Nurse Jackie and The United States of Tara return Mar. 22. The final season of The Tudors, starring Joely Richardson as the last wife of a finally fat Henry VIII (Jonathan Rhys Meyers), premieres April 11. Oh, and for the five remaining humans who haven't seen Twilight, the TV premiere is set for Jan. 23 on Showtime.
• Top Chef: For those who felt defrauded by the lack of a new episode of Top Chef this week, we offer you this exciting (but profane, thanks to Mike Voltaggio) sneak peek of next week's episode, featuring that notorious layabout Padma Lakshmi.
Sammie in Omaha, Neb.: Is there any hope for Trauma? I'm loving the show! It's an entertaining, action-packed drama, plus Rabbit-Nancy is awesome! It's been staying almost even with Heroes in ratings, and the latest episode actually had more overall viewers.