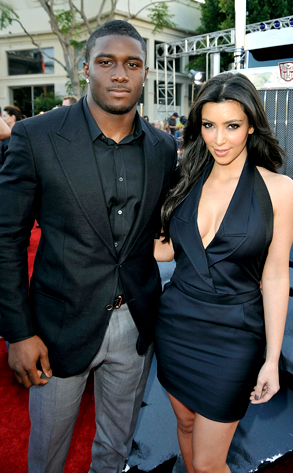 Kevin Winter/Getty Images
Kim Kardashian and Reggie Bush are on-again. And how.
While the Bootylicious One's Beverly Hills condo has been on the market for the past few months, it's the recent for sale sign installed in the front yard of her reunited footballer beau's Los Angeles mansion that's gotten tongues wagging.
And for good reason.
"They are looking for a bigger place to live together," a source close to Bush tells E! News. (Are those wedding bells we hear? Uh, again?)
But first they have to unload their old haunts. Both listed their properties through the same real estate agent, and while Kardashian's condo is on the market for $1.1 million, the NFLer's lair has an asking price of a cool $5.1 million.
Bush's bachelor pad boasts four bedrooms, five-and-a-half bathrooms, a red suede elevator with the initials "RB" stitched in gold (in case Rachel Bilson or Russell Brand are looking to move), a black and red velvet theater room, a glass floor mezzanine and 360-degree views of the entire city.
Purchased in December 2006, a source tells E! News that Bush "just put his house on the market yesterday."
We know just the housewarming gift.