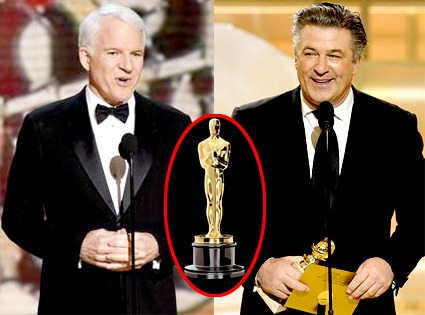 ABC/Tim Ogier; Paul Drinkwater/NBCU Photo Bank via AP Images; AMPAS
It's months away, but the Oscars are already Rocking our world.
In the latest effort to return Hollywood's biggest night to must-see-TV status, the powers that be have tapped Alec Baldwin and Steve Martin to cohost the 82nd Annual Academy Awards next year.
The ceremony takes place March 7, 2010, at Hollywood's Kodak Theatre.
"I am happy to cohost the Oscars with my enemy Alec Baldwin," Martin, who hosted the ceremony solo in 2001 and 2003, said in a statement.
"I don't play the banjo but I'm thrilled to be hosting the Oscars—it's the opportunity of a lifetime," added Baldwin, a veteran movie star and past nominee who just collected his second straight Emmy for being freakin' hilarious on 30 Rock.
Our sides are hurting already. 
"Steve will bring the experience of having hosted the show in the past and Alec will be a completely fresh personality for this event," first-time Oscar producer Adam Shankman said. (And we're thinking the prescient Marc Malkin deserves some kudos, as well.)
Martin, who guest-starred on 30 Rock last season as a billionaire friend of Jack's who happened to be under house arrest, was nominated for an Emmy for his très funny job hosting the 73rd Academy Awards in 2001.
Get a sneak preview of the Baldwin-Martin chemistry in the romantic comedy It's Complicated, out Dec. 25, starring Meryl Streep as the woman trying to choose between them.
(Originally published Nov. 3, 2009, at 3:10 p.m. PT)
The 82nd Academy Awards Hosting Poll