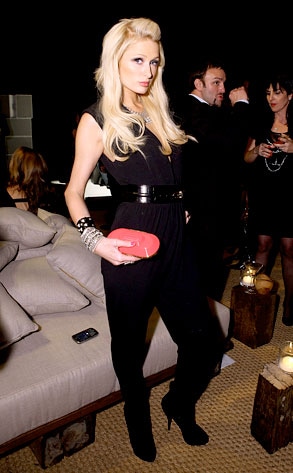 Chris Weeks/Getty Images
Although Paris Hilton left Doug Reinhardt home last night and attended the Jimmy Choo for H&M party with her family, the two are still going strong.
And what about that incident between the couple on Halloween night where P's phone ended up getting tossed out of their limo?
Her rep says things got blown out of proportion.
"There was never a choking incident," the heiress's rep tells E! News of paparazzi shots supposedly showing Doug's hand on Paris' neck. "The photographs show Doug asking Paris not to go back outside and to calm down."
So why was her phone thrown out the window by Doug in the first place?
"Doug had thrown Paris' phone to a friend inside the car, and it went out of the window by accident," says her rep. "Paris was annoyed with Doug because she was afraid that the paparazzi would get her phone."
In the end, one pap reportedly did find her phone—and kindly returned it for some good karma points.
There's no hard feelings on Paris' part. After the party last night, where M.I.A. performed for guests like Hayden Panettiere and Rashida Jones, Paris headed over to Doug's house before dining at Boa together.
The duo was even snapped puckering up while the shutterbugs clicked away.
Guess all's well that ends well.