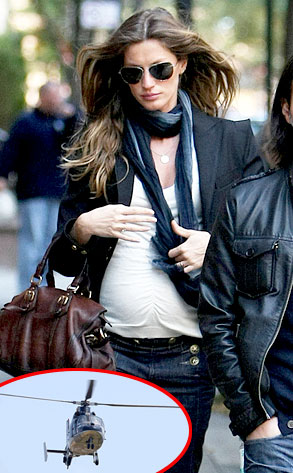 INFphoto.com; Stuart Morton/Getty Images
Can Gisele Bündchen be any hotter?
The pregnant supermodel is well on her way to getting a pilot's license to fly helicopters. She has already passed a written test and is logging time in the air with an instructor two to four times a week, E! News has learned.
"If you are comfortable and the doctor says it's OK, she can fly until the end of the pregnancy," says Keith Douglass, president of Shoreline Aviation in Marshfield, Mass. "Helicopters don't go very high or very far, so she is around."
Bündchen, 29, is expecting her first child with NFL stud Tom Brady, who Douglass saw once with his wife at the airfield.
But while the Brazilian cover girl needs nine months to become a mom, only 40 hours of air time are required to become a chopper pilot.
"She needs to take the practical test with the examiner in the helicopter, basically a check ride," Douglass tells E! "She's almost to that point."
And so far, he added, "She is terrific. She does a fantastic job."