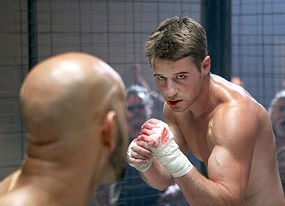 Michael Desmond/FOX
UPDATE, 9:12 a.m.: A rep for TNT just told us: "As with all of our series, TNT will evaluate the performance of Southland before deciding whether to order more episodes."
________
Anyone who watched the final season of The O.C. knows that Benjamin McKenzie is a true (hot, sweaty and scantily clad) fighter.
And now his new, much-ballyhooed police drama Southland is living to fight another day.
A TNT rep just confirmed to us that the cable network has picked up NBC's not-so-sloppy seconds and will air Southland in the new year. The series, from ER's John Wells and also starring Regina King and Tom Everett Scott, received acclaim from critics and fans alike before NBC pulled the plug on production last month.
Starting Jan. 12, TNT will debut the six episodes of the sophomore season of Southland that never aired, along with seven episodes of the previously aired first season. It will air opposite Jay Leno in the 10 p.m. slot.
All this sounds pretty fantastic, but here's the crappy gray lining:
There is no mention anywhere at this time of TNT producing more episodes of Southland, so it seems this is only a temporary reprieve. Sources contend that the series would cost a pretty penny, by TNT standards, to continue. We're waiting to hear the official word on that from TNT, so stand by...
Of course, this begs the question: Is it worth investing more time in a TV show that might go away after only six more eps? Tough call, right? Comment below.